How To Shop Michelle Obama's Closet In 2014
Fashion Whip is a political style column in The Huffington Post by Lauren A. Rothman, inspired by Lauren's experience as the founder of Styleauteur, a style and fashion consulting firm.
I just wrapped up my book tour for "Style Bible: What to Wear to Work", and as I ponder the most popular topics I have covered over the last three months, First Lady Michelle Obama is at the top of the list. Sure, people still ask if they can wear leggings to work and if hosiery is still a requirement (this is a very popular area of discussion!). But what everyone really seems to want is that "must-have" list, the kind that conveniently identifies the top items every woman should own.
First Lady Michelle Obama is one of the best-dressed women in the world, and her effortless style has certainly made a nationwide impact since her early days in the White House. Sleeveless at the 2009 State of the Union, Mrs. Obama inspired legions of my clients to follow suit in even the most conservative settings. This year, her October debut of a memorable pair of Jimmy Choos made my job easier, helping me convince many a naysayer to jump into similar over-the-knee boots! (I saved a picture of her wearing them on my phone to share with my clients as proof of a successful trend while shopping shoe departments across the country…)
Is Michelle Obama famous? Definitely. Is she glamorous? You bet. But she's a real person just like the rest of us. Every real woman can shop trends from Mrs. O's closet. Here are my favorites from 2013 that can work for you (and keep working for her) in the new year — a lust list that will be flattering for a variety of shapes, sizes and ages.
1. Over-The-Knee Boots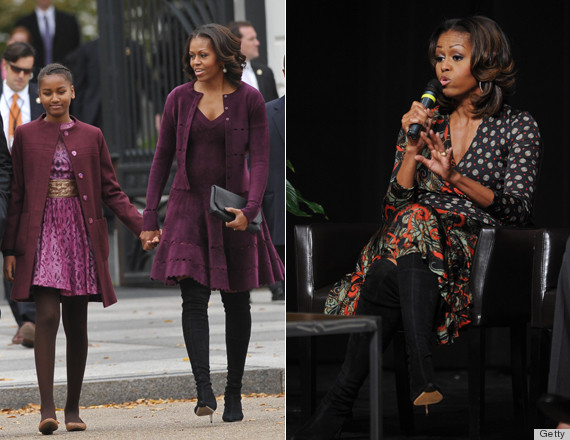 A hot trend in 2013, these soles will keep on walking in 2014! They are great for tall women like the First Lady and also a major asset in the cold winter months. Look for a fitted, pull-on boot in a flat, wedge or heel style, and don't go higher than 3.5 inches. These Manolo Blahniks and Robert Cleregie are so Michelle (and so fabulous!).
2. Exposed Zippers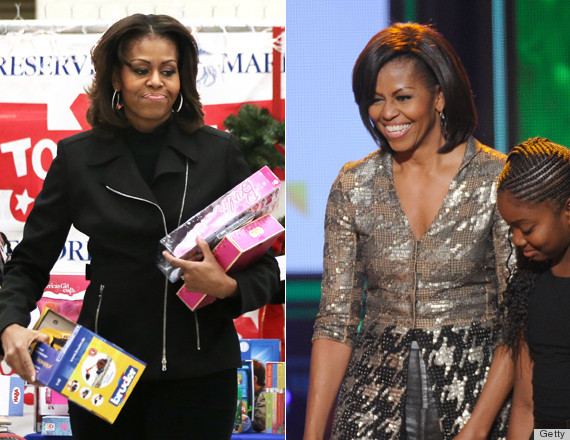 Look for jackets, sweaters, skirts, and dresses with this unique detailing. Exposed zippers add modern edginess to conservative classics.
3. The Statement Necklace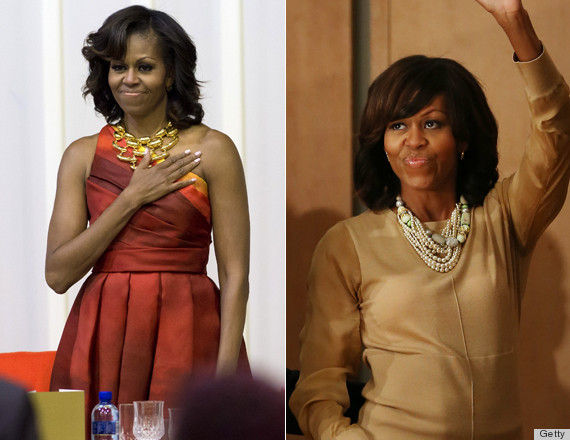 This is an accessory that every gal needs in her jewelry box! Costume or real, this attention-getter will instantly boost your style quotient.
4. Leather Blazer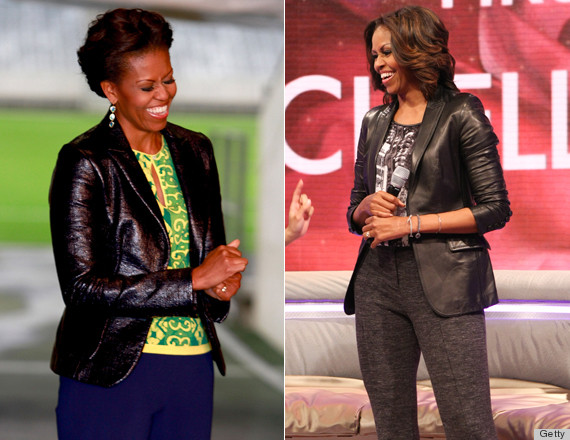 Splurge on this buttery piece! The new you craves a twist on the classic jacket — wear it to work with slacks or pair with jeans.
5. Peplum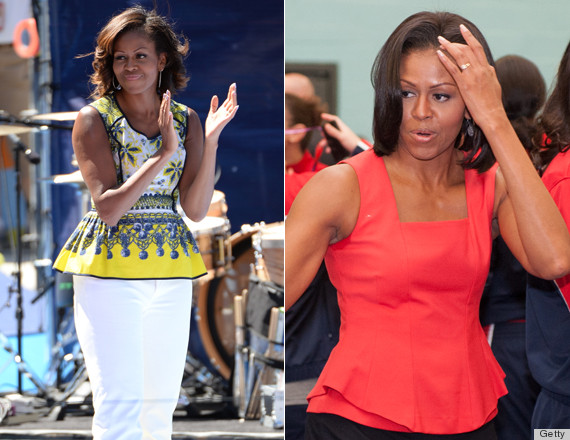 This style camouflages a multitude of sins while showing off a sexy, feminine shape. Flattering on so many body types, find a top, skirt, dress, jacket or belt with a peplum waist for instant glamour.
6. The White Button-Down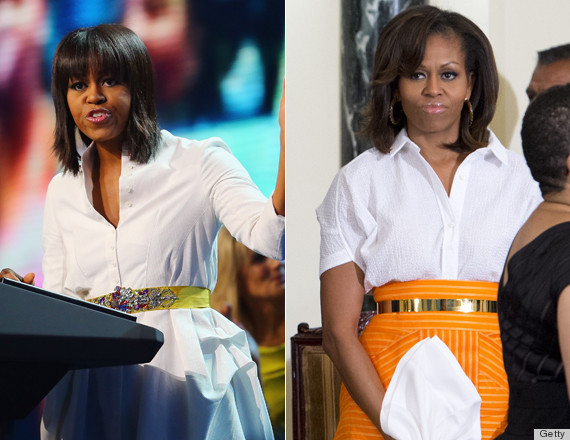 Whether a fitted version with French cuffs or puff shoulders, tuck this work wardrobe staple into a pencil skirt for a timeless, chic look. Rochelle Behrens' The Shirt, is a fave of power players!
7. The Kitten Heel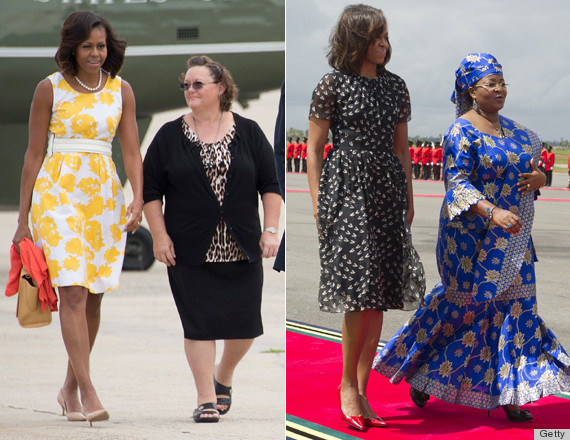 Work or play, these soles guarantee all day style… oh, and don't forget comfort (often a four-letter word in style circles).
8. The Belt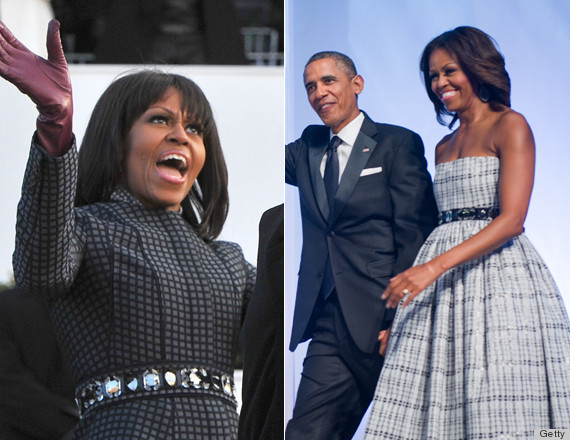 Mrs. O's sparkly belt from J. Crew debuted at the inauguration, and the First Lady never stopped highlighting her waist! Ladies, take a cue. Michelle even re-wore her sparkle belt in the fall.
9. Recycling / Re-wearing Your Looks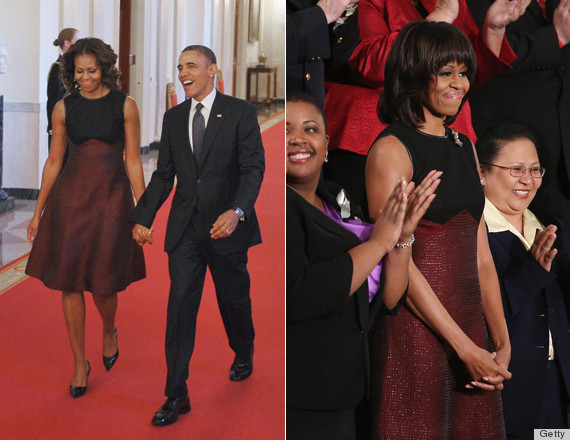 We all dread being immortalized on Facebook or Instagram in the same outfit twice. Instead, switch out your accessories and re-style your clothes! Shop your closet and keep wearing the fashionable fruits of your hard-earned loot.
10. Color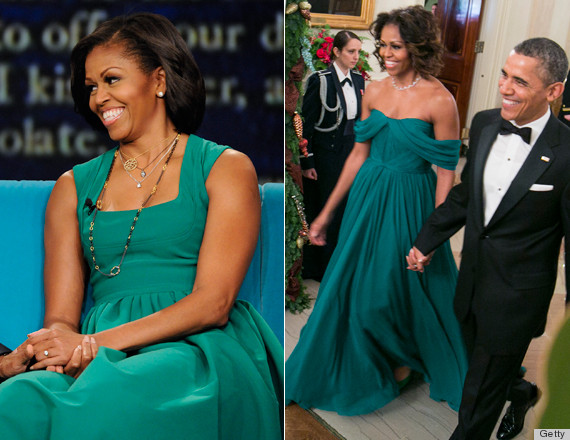 Michelle beamed in Emerald, highlighting Pantone's color of the year. We are sure to see her in 2014's color, "Radiant Orchid" too! Take baby steps and add color to your wardrobe with accessories, nail trends, or a special occasion dress.
Stephanie Klejst contributed to the research of this article.